March 5th, 2017
Hello to anyone who actually happens to read this - and my immediate appologies for not being the best at 'blogging'. From time to time I realize this blog is not very up-to-date... A lot has happened since last time I passed by here;
First of all the pause year inspired a visual story (Book) : 'Plūme in the Enchanted Garden' - in Norwegian and French versions - and soon in English version :)
And: We are back on track after a pause year in 'The Enchanted Garden' - and what a fantastic year THAT (2016) was! Please visit here to see: www.art-sanctuary.blogspot.com
After some inspiring months of painting and exploring my own universe, we are again starting to embark on another 'Enchanted Garden' exhibition - some wonderful artists will be arriving in the garden this year! (August 11th - September 24th, 2017). And I will be out there working on projects...along with Spring and Summer arriving.

March 5th, 2017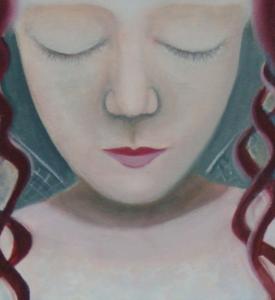 My main painting for Art Sanctuary's Enchanted Garden - 2012 is certainly 'Demoiselle Libellule'; based on my experience of my little niece, Sofie, a very special little girl, so close with her grandmother - little magic girl - this painting seems (again) to be one of premonition; My mother, her grandmother, passed on, two days before The Enchanted Garden 2012 closed.

December 22nd, 2014
Wishing all the very Best!
August 18th, 2013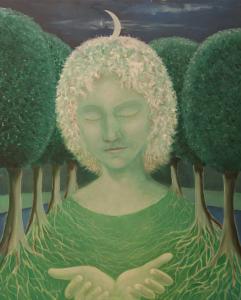 After my mother's passing I honestly didn't know what to do.....
I ended up walking in the forest of the garden...day after day...wek after week ....month after month.....
Many paintings later - 'Carina' (my mother) arrived.
- And then it continued - and evolved - into a whole installation, a room of four beautiful tapestries .....yes, I will say it: THEY ARE BEAUTIFUL!
Made in collaboration with 'Flanders Tapestries' - in the Heart of Tapestry-land!
- The installation also has a well in the middle;
All based on this painting: 'Forest Temple':
http://fineartamerica.com/featured/forest-temple-tone-aanderaa.html?newartwork=true
- a painting which has stayed with me since 1989 - changing each time I moved on.....
And now: An installation, a whole room of 4 x 4 metres being created as 'the inside of the temple painted'.
For more info, please visit my blog: www.toneaanderaa.blogspot.com
March 12th, 2013
Goodness how time flies....!
I guess I am not the best of bloggers.
- Since my last blog, we have had the first Art Sanctuary's 'Enchanted Garden - 2011' exhibition (a large and beautiful natural garden filled with wonderful art www.art-sanctuary.blogspot.com); 'Art Inspired by and in Dialogue with Nature' - and with more than 1000 visitors, all pledging to come back next year, the minute the gates closed, we embarked upon 'The Enchanted Garden - 2012'.
- Being the organizer and curator of this wonderful event; encountering and collaborating with fantastic artists, musicians, and poets/storytellers (also opening my own studio to the public in the old railroad station house, 'Station 14') - it has been, and continues to be, a dream-come-true.


April 17th, 2011
It's MAGIC TIME! Preparing an Enchanted Garden - ART SANCTUARY is officially opening it's gates July 1st, 2011:
21 Artists exhibiting in a big and beautiful garden: In a little village in the French-speaking part of Belgium: Ste-Marie-Geest, B-1370 Belgium.
Bienvenue dans le Jardin Enchanté - Welcome in the Enchanted Garden - Welcom in de Betoverende Tuin
See more info: http://art-sanctuary.blogspot.com/